I confess that I am rather late to the wonder that is Miss Peregrine's Home for Peculiar
Children, which is something Miss Peregrine herself would likely not appreciate given her talent as an Ymbryne. I owe my curiosity about the series to Tim Burton as I saw the previews for the movie version and thought, "Well, that looks fascinating!" It so happened that on my birthday trip to Books-A-Million I saw the series as a boxed set. I was unable to resist and so, I bought it along with the book, 'Tales of The Peculiar', which was signed by the author, Ransom Riggs! (Pretty awesome, methinks!) I'm really looking forward to his next novels, whatever they may be. He has a distinctive style and it really kept me
intrigued and wanting more. I've also discovered that he's married to Tahereh Mafi, whom I have heard a lot of good things about too! (Is it too much to hope that they write a book  together? Omg, that would be amazing! Also…their wedding is basically all I could ever want. I saw pictures on Tumblr and I'm terribly jealous. Bookshoppe wedding, bouquet made of book pages…you get it. #EnviousAsHell) I've posted two pictures here just so you can see. These two are bookworm goals. ❤
Okay, enough about my wedding envy. (I don't even have a boyfriend, so there is that, lol.) Have you guys read this series of interesting books? I found the premise of living in a  'loop' fascinating and depressing all at once, seeing as they already knew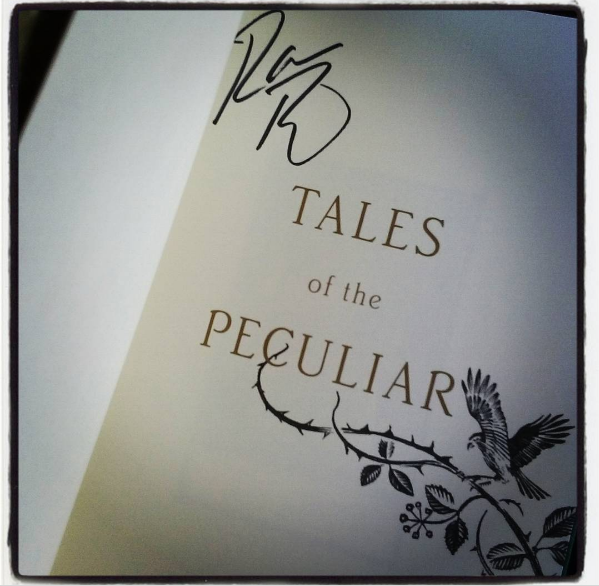 what would happen every single day. Of course, it was better than the alternative of the house being bombed and everyone killed. It was during the Second World War, that they were in the loop. Jacob is a young man from our day and age who whilst on a journey to learn about his grandfather, who died in a strange way. I don't want to give away too much if you haven't read them, but I promise you that if you like history and fantasy, you'll very much enjoy this series. It's opened me up to the YA genre of books, a verse that I was trying to keep away from simply because I was worried they'd be poorly written or would deal with issues that I am too old to really be able to relate to. I absolutely loved the
old 'peculiar' photos that were in the books too. It certainly gave a face to the vast array of characters. It's an original way to give visual to characters. I very much enjoyed the different take. In the boxed set, it comes with 12 little pictures in an envelope that show
some of the people you'll encounter in the books. This is one of the images included, this being Miss Peregrine. If you enjoy old photographs…you'll enjoy these. if I remember correctly, Mr. Riggs found them in travels and wanted to publish a book just of these but instead used them in the Miss Peregrine series.
While I loved the image of who Miss Peregrine is, I confess that Eva Green's face is rather ingrained into my mind. Asa Butterfield is a perfect choice for Jacob. I am dying to see the film, though I've been told that it is drastically different from the books. I noticed that they switched Emma's powers from fire to air for starters. They also made Bronwen into a small child of perhaps six years of age. (She was older in the books.) I can't judge the film entirely as I've not seen it but I do wonder why the change. Hollywood is forever trying to make a movie better than a book, which is seldom (if ever!), achieved. I think the only films that were just as good as the book were the Harry Potter series, The Help and Gone With the Wind. Oh and the Wizard of Oz too! That was a good one as well. Hollywood ought to learn that sometimes changing what is already a good thing isn't always wise. A prime example of that would be the Divergent series. What a fiasco. I do want to read the books; I read the first one and enjoyed it. However, I saw the second movie before I read the book and it turned me off, which was bloody stupid, don't you think? Allowing a movie to sway me.
What are some book to movies that you've enjoyed? What are some that you guys have absolutely loathed? Sound off in comments below or e-mail me and I'll post some responses in my next posting! ❤
If you go to see Miss Peregrine, do be sure to tell me how you've enjoyed it. I'm hoping to see it soon. I am also hoping to pick up the Miss Peregrine funko pop to set on my bookshelf. (I have too many of the blasted things but I just love them. Books and Funkos…I should have incorporated them into my blog somehow too. Ah well.)
I think I've rambled quite enough; I bet you're rather tired of me. I think I'll leave you with this gif. It's really a rather perfect ending to this post, don't you think? (Again, they are goals.)